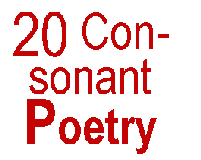 Simple rules create beautiful confusion: Use all twenty consonants (bcdfghjklmnpqrstvwxz) at least once in each sentence; Do not repeat consonants except when repeating one consonant uninterrupted by other consonants (e.g. the fragment "bunnies suck Kool-Aide dope"); use vowels freely. Contribute to this page by sending your own twenty consonant poetry to 20cp@ammx.au.com. William Gillespie and others on Eclectic Seizure inspired this page.
---
1995.11.16 by Katya Vye Shippe:
Kil lecherous Suzie Q. Gun! Pow! Exit. Defame by jove.
Sanitize jam-fuck void. Ha! Quail! Leg wax probe.

---

1995.09.23 by Leslie Opp-Beckman:
Move quick! Jungle zebras exited. Poof! Why?
A queue ... zippy cod-waves ebb. Luxuriant, foamy. A huge joke?

[Leslie wants to know "Can I encourage students in my creative writing classes to contribute?" Of course! Spread the virus. -- ed.]

---

---

---

---

---

---

---

---

---

---

Yr the [an error occurred while processing this directive] thing to read this page since 1995.07.20 21:36:23 GMT. Read carefully.