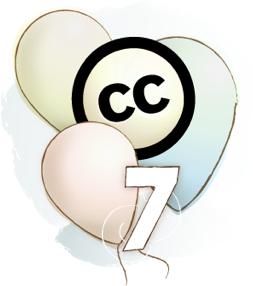 Creative Commons turned 7 yesterday. Tonight in San Francisco there is a celebratory salon, including short talks by Alexander Macgillivray (Twitter General Counsel, former Google Deputy General Counsel, and CC supporter from before CC was launched), Eric Steuer on the Into Infinity project and me on CC 2009 highlights and 2010 opportunities and challenges.
One of those challenges is funding. Approximately US$1 million loss in funding over the last 18 months is attributable to the financial meltdown. Fortunately an unexpected major gift this year helped make up for half of this loss. Together with some streamlining and careful spending, CC is in an ok financial position, for now. However, our (reminder: I don't speak for any organization on this blog, but "our" is the natural word to use here) annual public funding drive needs to close very strongly to meet its goal. Please help!
I won't make the case for supporting CC again this year on this blog — see my post last year — if it was good enough to cause the highly discerning Rob Myers to increase his donation, it should be good for you, too.☺
Several members of the Creative Commons board of directors have set personal fundraising goals. Read their letters and contribute:
Thanks, and for the few reading this immediately after posting and in San Francisco, hope to see you tonight!