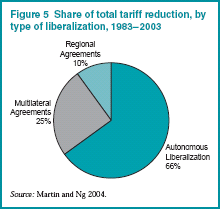 Tyler Cowen gives CAFTA a very qualified endorsement which I mostly agree with. The clincher:
Failure of the treaty would be a disaster, again for symbolic reasons. Trade negotiations would slow down significantly, and the age of trade agreements might be over.
What age of trade agreements? According to the World Bank's World Economic Prospects: Trade, Regionalism, and Development unilateral trade liberalization accounts for two thirds of tariff reductions over the past twenty years. Regional agreements like CAFTA only accounted for ten percent.
Downgrade symbolism and upgrade strategy: unilateral free trade is the way forward, followed by worldwide agreements, the latter spurred by the former. And drop the non-trade stuff, like exporting intellectual protectionism.
Still, I find it hard to not root for CAFTA, if only because the economic neanderthals on the other side are so ugly.
(CAFTA is doubtless a very ugly treaty too, with payoffs and exceptions galore. Dare I say that those pursuing treaties rather than unilateral liberalization overestimate public good problems and underestimate rent seeking problems?)