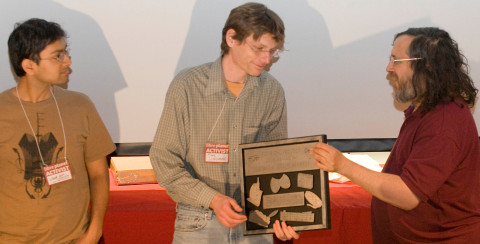 Asheesh Laroia and Mike Linksvayer of Creative Commons accept the 2008 Free Software Foundation Award for Project of Social Benefit from Richard Stallman. Detail of photo by Matt Hins / CC BY-SA.
Icing on the cake of a highly successful Libre Planet Conference. Other highlights included great talks by Evan Prodromou on engineering for free network services and Rob Savoye on Gnash, which turns out to be much more than just an Adobe Flash browser plugin replacement, and the free network services unconference.
Addendum 20090330: Audio of Stallman's talk and the awards ceremony, Asheesh's writeup.