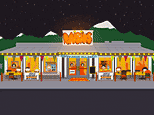 Tyler Cowen cites a Harper's Index factoid:
Number of American five-year-olds named Lexus: 353
One of them works at Raisins, featured in the first South Park episode I ever watched and still my sentimental favorite. Every kid should watch this episode. If it is available on DVD I can't find it, but search for "South Park 714" or "South Park Raisins" on any filesharing network — South Park episodes are among the most shared content.
Also see Christian Hard Rock, which tackles filesharing. Almost every episode is well worth watching for kids and adults. Skip the movie, it sucks ass.