Apparently security good guy Bruce Schneier is behind this:
Today, the rights of individuals are being eroded: by government, by corporations, by society itself. This icon — the Individual-i — represents the rights of the individual.

It represents the right to privacy and anonymity in the information age. It represents the rights to an open government, due process, and equal protection under the law. It represents the right to live surveillance free, and not to be marked as "suspicious" for wanting these other rights.

It recognizes that a free society is a safe society, and that freedom is founded upon individual rights.

The battle for individual rights is just beginning; our side needs a symbol.

We hope to see this symbol displayed proudly wherever individual rights are valued.

The Individual-i symbol is not owned by any organization. There is no platform, no organizational structure, no meetings. This symbol is in the public domain: uncopyrighted, untrademarked, unowned. Anyone can use it for any purpose.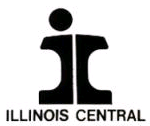 Sounds good to me.
The symbol reminds me of something from my childhood: the Illinois Central Railroad logo used 1967-1972 by the railroad and in the mid-seventies by my father's model railroad.
I'm not going to suggest remixing other old Illinois Central logos along an individual rights theme.