Jesus H. Christ, also known as James Christian, has a 144 IQ score, a certificate of intellectual achievement, and is sending away for information from a diploma mill. Let me explain…
Someone posted to a mailing list I'm on the retarded suggestion that everyone on the list take the Tickle.com "Classic IQ test (NB rel="nofollow", and that is my suggestion to humans as well).
I recalled reading recently that the maximum IQ according to this "most thorough and scientifically accurate IQ Test on the Web" is 144. Like an idiot, I (or rather "Jesus H. Christ") took the test, and got 144. No accomplishment–there are no hard questions on the test, unless you happen to be bad at remembering cliches.
I of course declined their offer to pay for an "in-depth analysis" of my IQ score, but today I received an email from Tickle tests:
Jesus, As a top-scorer on Tickle's IQ Test, the in-depth analysis of your IQ score is FREE.
FREE! How could I pass that up? Well, I had to click past around two dozen "free offers" to get to my "free analysis." Many of the offers were from diploma mills. I filled one form out in a completely misplaced hope to short circuit the process (I had to click past several more before getting to my analysis). They do make an effort to validate leads. I had to provide a real address, and they would not take "Jesus Christ" as a name.
James Christian of Hayes Valley, San Francisco, your PhD information packet is on its way.
The "in-depth analysis" when finally obtained, proved to be ever so slightly interesting, and not because it told me anything about my, ahem, intellect. The analysis says that a scoring 144 on the Tickle test corresponds to an IQ of between 134 and 144. So, even if that range is accurate (and there's no reason to think it is), Tickle gives people a feel-good top of the range number. The analysis also lists purported average scores by U.S. state, ranging from 110 for Mississippi and West Virginia to 115 for the District of Columbia. Supposedly this test has been taken over 30 million times, so I'd expect averages to be much closer to 100, if the test were at all meaningful.
I found an abstract for one small study of online IQ tests:
This double-blind study utilized 60 participants placed into one of three equally distributed categories according to their composite ACT/SAT scores. Comparisons of the Reynolds Intellectual Assessment Scales (RIAS) with internet IQ tests from tickle.com, queendom.com, and iqtest.com showed low to modest correlations, questioning the overall validity of web IQ tests.
One of the investigators has another abstract in these proceedings (p. 23) titled Web-Based IQ Tests: A Concept Whose Time Has Not Yet Come.
Here's Jesus H. Christ's certificate of intellectual achievement: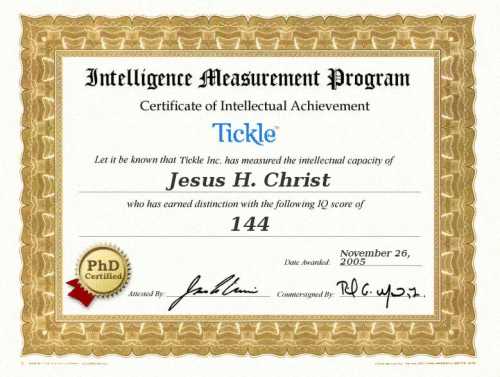 Maybe after James obtains a degree he can set up his own PhD certified testing service.
Update 20051128: A post from the person who sent the hey-let's-everyone-take-the-tickle-iq-test suggestion to a list I'm on. (By the way, calling the suggestion "retarded" was a joke, mostly.)