A recent article in The Economist includes the following chart: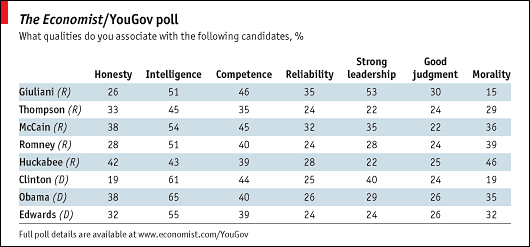 At a glance (apologies for a complete lack of rigor), two perceived traits set the two currently leading candidates (Clinton and Giuliani) apart from the rest: "strong leadership" and lack of "morality". In other words, voters want an abominable person as their temporary dictator. If I could only ratchet down my cynicism, I would be disappointed and fearful.
My priority for any candidate is to reduce the power of the presidency — i.e., constrain an abominable person in the office.
The chart above in conjunction with the YouGov survey data it is based on make for great fodder for those who believe "the media" is suppressing Ron Paul: he is the only candidate in the relevant part of the survey not presented in the chart.