A little over two years ago I wrote about copying content between Wikitravel and World66 (they're both using the same Creative Commons license that allows this). Wikitravel "won more" from the operation due to permitting more flexible editing.
Now they've both won through simultaneously announced acquisition by Internet Brands.
An Alexa traffic rank graph of Wikitravel, World66, and carsdirect.com, I believe the most popular Internet Brands site: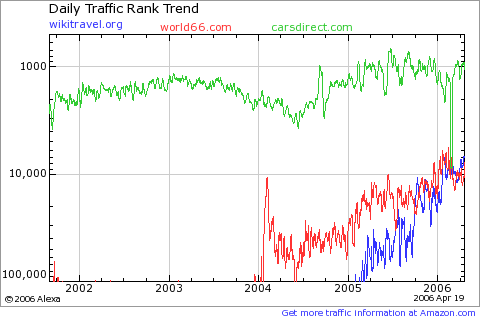 Congratulations again to Wikitravel cofounder Evan Prodromou. It's fantastic to see projects and people like this get some commercial recognition after years of dedication to the "commons" (very broadly speaking) — see also Webjay and MusicBrainz.
Ross Mayfield has a short post on the acquisitions the best part of which is this:
Terms of the deal are not disclosed, but if you find them you could add them to this wiki page.