Nina Paley (I highly recommend all her animations and appreciate her free culture activism) has an idea called the copyheart:
Use it wherever you would use the ©copyright symbol. Instead of

© Copyright 2010 by Author/Artist. All Rights Reserved.

you could write

♡2010 by Author/Artist. Copying is an act of love. Please copy.
I love the sentiment. Mike Masnick thinks the copyheart is cool. Unsurprising, since he doesn't appreciate public copyright tools. That's a problem, since cool without the aid of rigorous public copyright tools fails to build a commons that everyone can use. We don't need help with materials that can be used by those with a low level of legal exposure: that's everything that isn't held in secret.
Expanding on the problem: unfortunately one automatically obtains copyright the moment one produces an original expression in a fixed form (e.g., this blog post). Copyright is a poor name, for it isn't the right to copy; rather it is the exclusive right to restrict others from making copies (including altered copies, performances, and an ever-growing list of nearby uses, essentially forever). Copyrestriction would be better. However, others aren't restricted automagically (and when attempts are made to do so, restrictions are usually massively over-applied); the copyright holder must take action, must play the role of the censor. Censorright would be even more apt. Not granting rights to the public in advance means one is retaining the right to censor.
Why would Paley want something that grants the public no rights in advance, while complaining loudly about some Creative Commons licenses for not granting enough rights in advance? Probably because she's skeptical of public licenses, period, claiming they legitimize copyright. I almost completely disagree: copyright exists, is automatic, and is ever-increasing in scope and restrictiveness; public copyright tools are just a reality-based response that allow opting out of some or all of one's right to censor, can offer limited protection (in the case of copyleft) from downstream censors, and also signal that some or all of a censor's right is not desired, and most importantly help build substantial projects and bodies of work that do not rely on censorship (eventually evidence has to matter).
Now Paley is well aware of these arguments, and addresses some of them in the Copyheart Manifesto (which is more like a FAQ) and elsewhere. She says that free licenses "aren't solving the problems of copyright restrictions." That's something that needs debate. I'd argue they're one of the few rays of light against censorship, and they are creating space for "solutions" to be developed (see "most importantly" previous paragraph). She even almost directly addresses the problem that copyheart-like mechanisms (Kopimi is very similar; "all rights reversed" is more opaque simple statement that has been used occasionally for decades that Paley notes):
Q.Is the ♡Copyheart legally binding?

A. Probably not, although you could test it:

Mark your work with the ♡Copyheart message.
Sue someone for copying it.
See what the judge says.

We really don't think laws and "imaginary property" have any place in peoples' love or cultural relations. Creating more legally binding licenses and contracts just perpetuates the problem of law – a.k.a. state force – intruding where it doesn't belong. That ♡copyheart isn't a legally binding license is not a bug – it's a feature!
Sadly, when the right to censor is the automatic default, it is not using a legally binding license that perpetuates the problem, but I repeat myself. I appreciate offering the test above, but it is far too easy a test (though I don't know how it would turn out). Takedown notices, other chilling effects, and just plain avoidance, are far more common than actual suits. A better test would be this:
Mark your work with the ♡Copyheart message.
Have someone else upload the work to Wikimedia Commons, not mentioning that you asked them to.
See if the Wikimedia Commons community is willing to rely on your copyheart message to make and keep available your work.
One reason the work probably won't remain on Wikimedia Commons (note I'd be very happy to be proved wrong) is that copyheart doesn't clearly say that altering the copyhearted work is ok with the copyhearter. Permitting adaptation is a requirement for free culture; Paley agrees.
The situation may not be totally hopeless for copyheart. Kopimi started as an equally simple exhortation to copy. There are some works on Wikimedia Commons labeled as Kopimi (though I'm not sure how many if any are only relying on Kopimi; many works on Wikimedia Commons are multi-licensed), though the template used for Kopimi uploads on Wikimedia Commons goes beyond simple exhortation to copy:
This work is labeled as Kopimi, meaning that the copyright holder of this work does not only release it, but specifically requests that this work be used and copied for any purpose, including unlimited commercial use and redistribution. It is believed in good faith that a work classified as Kopimi is free to use in any way, including modification and the creation of derivative works.
Now it would be possible to take copyheart in this direction, say:
♡2010 by Author/Artist. Copying and adaptation are acts of love. Please copy and adapt for any purposes.
One may as well finish the job and back this sentiment with a rigorous legal tool that takes every step possible to rid oneself of the right to censor, worldwide:
♡2010 by Author/Artist. Copying and adaptation are acts of love. Please copy and adapt for any purposes without any restrictions whatsoever.
The link is to the backing legally rigorous tool, CC0.
…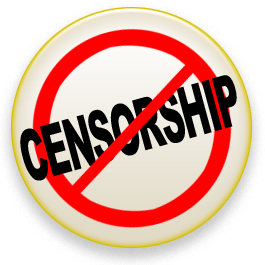 Speaking of censorship, the EFF has been doing a fantastic job in fighting many of its forms. Please join them in saying no to censorship.
Not only does EFF fight censorship, they also retain almost no right to censor works they produce. They use a Creative Commons Attribution license, which only requires giving credit to make any use (well, any use that doesn't imply endorsement). You should also join them is saying no to censorship in this way — no to your own ability to be a censor.
You should also make annual donations of $ to both CC and EFF, and send ♡.