Currently the first autocompletion result upon typing "no copyright" into YouTube's search is "no copyright law in the universe is going to stop me", which is apparently a string used in the description of 108 videos on YouTube, and the title of at least one. It seems this phrase is primarily an anti-SOPA expression rather than an admonition to not take down whatever video is described.
Andy Baio pointed out late last year that disclaimers of intent to infringe others' copyrights and claims of fair use frequently appear in the descriptions of videos on YouTube. He noted 489,000 and 664,000 results for the queries "no copyright" and "copyright" "section 107". Those numbers may have grown significantly in the last nearly 3 months, but should be taken with a huge grain of salt. Yesterday for me, "no copyright" obtained 906,000, while today YouTube has said both 972,000 and 3,850,000 to the same query. For "copyright" "section 107", yesterday 771,000, today 418,000. I don't know how many videos were on YouTube 3 months ago, but yesterday an empty query claimed 567,000,000; today I've seen 537,000,000 and 550,000,000 — maybe on the order of 1% of videos have some sort of copyright disclaimer. But there are variations that might not be picked up by the queries Baio used, including for example two of the descriptions I posted a few days ago.
Although they're probably completely useless in preventing automated takedowns and in court (though it's not entirely clear they ought be useless in either case), as expression they're at the very least interesting, and perhaps more. Though they can be seen as "voodoo charms", so can the ubiquitous "all rights reserved", and even meaningful public copyright licenses can be seen as such to the extent they are misunderstood or totemic. My main objection to the disclaimers Baio brought attention to is that they're clutter to the extent they crowd out writing or reading other information about works; and just about anything else is more useful, from provenance to expressions of appreciation, eg "In my opinion, one of the greatest songs of the '80s."
But my first reaction to such disclaimers is the wish that they would be more expressive, even substantial. Regarding the latter, in many cases the uploader has added something to or rearranged the work in question — e.g., where the work is a song, the addition of images, or the performance of a cover. How often does the uploader grant permissions to use whatever expression they've added? (I don't know; one aggregate tool for exploring such might be the addition of &creativecommons=1 to the aforementioned queries, which will limit results to those marked as CC-BY.) One fairly well known case of something like this is Girl Talk's All Day:
All Day by Girl Talk is licensed under a Creative Commons Attribution-Noncommercial license. The CC license does not interfere with the rights you have under the fair use doctrine, which gives you permission to make certain uses of the work even for commercial purposes. Also, the CC license does not grant rights to non-transformative use of the source material Girl Talk used to make the album.
Too bad with the NonCommercial condition, and I really don't like Girl Talk's music (for something kind of similar that I prefer aesthetically and in terms of permissions granted, check out xmarx), but otherwise that's a great statement.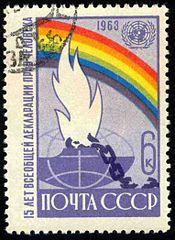 Over the past few months someone or some people have made me aware of another example, one that replaces disclaimers with demands. You can see some of this on my English Wikipedia user talk page (start at "Common IP" — unfortunately webcitation.org doesn't pass through internal links, so you'll have to scroll down). It may appear that my correspondent is religious and communicating poorly through automated translation between Russian and English, but there's a kernel of something interesting there. If I understand correctly, they think that without listening to the Beatles, one cannot develop morally (that comes from elsewhere, not on my talk page) and that per a variety of United Nations declarations concerning human rights and especially cultural diversity, anyone has the legal right and moral duty to share Beatles material. As far as I know they started this campaign at beatles1.ru and moved on to other sites, including Wikipedia. It is pretty clear that they're not looking for links to beatles1.ru or some other site they control — I think they're sincerely promoting something they believe in, not a money-making scam.
The flaws in their campaign are legion, not least of which is that there could hardly be a worse body of work than that of the Beatles around which to plead for rights to share in the name of cultural diversity. As the Beatles are one of if not the most popular acts ever, the most obvious conclusion is that more Beatles exposure must lower global cultural diversity. On the related issue of cultural preservation, super-famous material like that of the Beatles is going to survive for a long time in spite of copyright restrictions, even vigorously enforced (see James Joyce).
As to their persistent requests for some kind of permission from me to proceed with their campaign, I say two things:
As far as the copyright regime is concerned, the permissions I have to grant to you are nil.
As far as demands made in the name of human rights, no human requires permission from any other to pursue those. Godspeed to you, or perhaps I should say, Beatlespeed!
I want to thank my correspondent for causing me to look at the Universal Declaration of Human Rights and subsequent documents. The way they address "intellectual property", to the extent that they do, is more curious than I would've thought. I leave that to a future post.
p.s. My favorite Beatles.