Another SF Chronicle article about crime and police staffing in Oakland includes but does not discuss a chart of violent crimes/population and violent crimes/officer for 10 California cities.
Crimes/officer screams out to me as the statistic for which Oakland is most anomalous. This could support the assertion that I incessantly hear and read from neighbors and commenters that Oakland needs more police — each officer has a large number of crimes to deal with — often in the form of "Oakland has half the police, in ratio to population, that most major cities have." (This seems to be true relative to some U.S. cities, but is an exaggeration relative to other California cities; I have no idea why California cities seem to all have lower police/population levels than elsewhere in the U.S.) But it could also support an assertion that Oakland's police department is spectacularly inefficient.
Crimes/officer is a facile measure of police department efficiency in the sense that it could be improved by hiring more officers and having them do nothing. Much better would be a measure of crime reduction per officer, a much more difficult and speculative number. But given the large range of crime rate outcomes given a relatively narrow range of staffing/population among California cities, I suggest policing efficiency must be a major determinant of those outcomes.
I calculated the number of officers per 1000 population for the cities included in the Chronicle chart, and included per capita income to throw out another frequent assertion, that Oakland has lots of crime because it is poor. Below is a screen capture from my spreadsheet.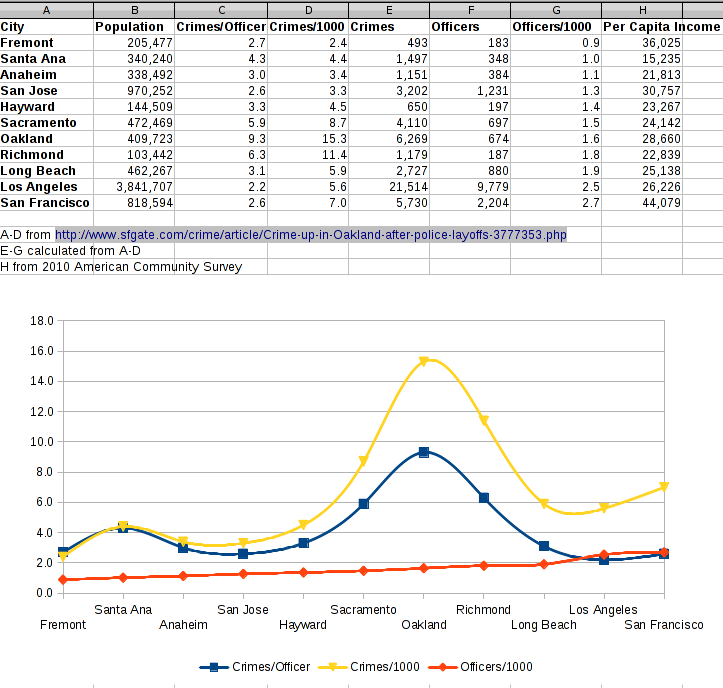 A part of me is deeply annoyed each time I hear someone complaining about lack of police staffing or supporting for-appearances measures (gang injunctions probably an example of such) or claiming that such must be expressed because something must be done because there's a crisis. Crime has been at a high level in Oakland relative to other U.S. cities for a long time. Furthermore, many Oakland residents see the police as the enemy, and not without reason.
It seems to me that even if one has a singular goal of increasing staffing levels, it makes sense to first demand and scrutinize department effectiveness. Adding officers to an ineffective department seems like a for-appearances measure, and not a good strategy for building long-term support for increased staffing and increased resident cooperation with police (and vice versa). Admittedly this kind of fix-what-you-advocate-to-increase-its-long-term-success is a satisfying position for me, but perhaps not for many others.
Happily, it seems there is at least one organization, Make Oakland Better Now that is advocating for both more and more effective police (I'd only reverse the order). MOBN's reporting on the OPD's nearly decade-long non-compliance with a police misconduct settlement and how the LAPD improved drastically under a similar settlement seems like required reading for anyone who wants better policing in Oakland. This includes those expressing a desire for increased public safety, and those who hate the police — I'm extremely dubious that goading constitutes either side's best strategy.